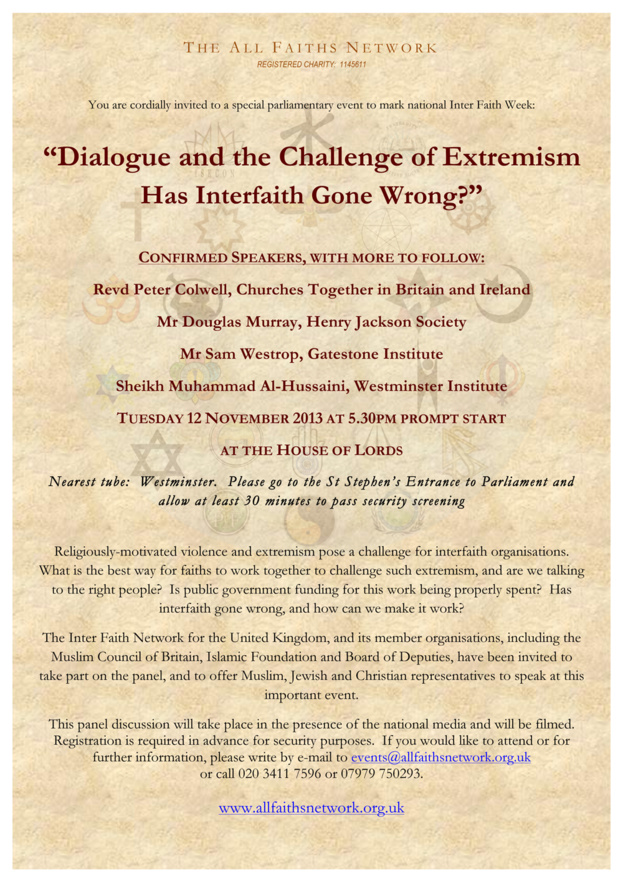 You are cordially invited to a special parliamentary event to mark national Inter Faith Week:

"Dialogue and the Challenge of Extremism
Has Interfaith Gone Wrong?"

CONFIRMED SPEAKERS, WITH MORE TO FOLLOW:

Revd Peter Colwell, Churches Together in Britain and Ireland

Mr Douglas Murray, Henry Jackson Society

Mr Sam Westrop, Gatestone Institute

Sheikh Muhammad Al-Hussaini, Westminster Institute

TUESDAY 12 NOVEMBER 2013 AT 5.30PM PROMPT START
AT THE HOUSE OF LORDS

Nearest tube: Westminster. Please go to the St Stephen's Entrance to Parliament and
allow at least 30 minutes to pass security screening

Religiously-motivated violence and extremism pose a challenge for interfaith organisations.
What is the best way for faiths to work together to challenge such extremism, and are we talking
to the right people? Is public government funding for this work being properly spent? Has
interfaith gone wrong, and how can we make it work?

The Inter Faith Network for the United Kingdom, and its member organisations, including the
Muslim Council of Britain, Islamic Foundation and Board of Deputies, have been invited to
take part on the panel, and to offer Muslim, Jewish and Christian representatives to speak at this
important event.

This panel discussion will take place in the presence of the national media and will be filmed.

Registration is required in advance for security purposes. If you would like to attend or for
or call 020 3411 7596 or 07979 750293.