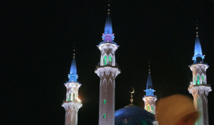 Source
Moscow, October 2, Interfax - Deputy Chairman of the Russian Muftis Council Rushan Abbyasov has spoken with representatives of the U.S. Commission on International Religious Freedom about the problems of Muslims in Russia.
He expressed concern over the fact that the mass media often associated extremists with Islam, the press service of the Council reported on Tuesday.
"It is precisely for this reason that in this country, like they are in the West, people are scared by the construction of new mosques. The local authorities also sometimes demonstrate a lack of understanding. As a result of this media policy, people are also afraid of the hijab, the prohibition of which in schools has even developed into a political issue," Abbyasov said.
There are numerous cases when "certain destructive forces in the guise of so-called 'experts on Islam' (who in reality have neither an education or knowledge of Islam) on the staff of the Russian Orthodox Church resist a positive dialogue on the pretext of Christian Orthodoxy and try to hurt Muslims in different parts of this country, set them against society and the state and arouse a negative attitudes towards this worldwide religion among non-Muslims," Abbyasov said.
"Unfortunately, regional and local authorities sometimes follow their lead without realizing the danger of the situation," the press service quotes Abbyasov as saying.
Among such actions, he named the recognition the translation of the Quran into Russian made by philosopher Elmir Kuliyev as extremist.
"This and the way it is done is an indication of the complete absence of respect not only toward the Muslims of Russia but toward any religion, including the teaching of monotheism," he said.
The meeting was attended by a leading analyst of the U.S. commission, Catherine Cosman, and first secretary of the political section of the U.S. Embassy in Russia, Patrick Horne. The report does not specify where or when the meeting took place