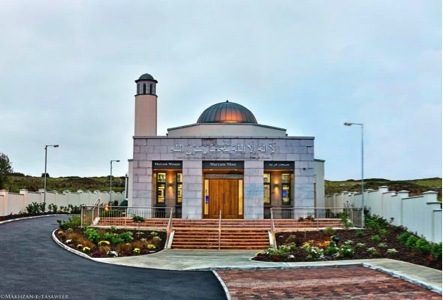 The Ahmadiyya Muslim Community is pleased to announce that earlier today, the World Head of the Ahmadiyya Muslim Community, the Fifth Khalifa, His Holiness, Hazrat Mirza Masroor Ahmad inaugurated the Maryam Mosque (Mosque of Mary) in Galway, Ireland. It is the first Mosque built by the Ahmadiyya Muslim Community in the country.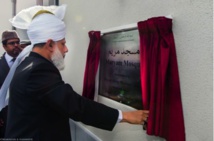 His Holiness arrived at the premises at 1pm and after unveiling a commemorative plaque he proceeded to deliver his weekly
Friday Sermon.
The sermon was broadcast live around the world on
MTA International
.
In his sermon, His Holiness made it clear that the new Mosque would, in keeping with all Ahmadi Mosques, be a symbol of peace and a means of bringing people together.
His Holiness said that in today's world, Islam had been much maligned and defamed due to the hateful acts of so-called Muslims in certain parts of the world. He said that in reality all forms of terrorism and extremism were entirely opposed to Islam's true teachings and to be condemned.
He said that the
Maryam Mosque
would never be a place of violence or injustice; rather it would be a means of fostering peace, tolerance and a respect for mankind.
Hazrat Mirza Masroor Ahmad said:
"Our Mosques are a place from which we proclaim the need for peace, reconciliation and tolerance and from where we condemn all forms of violence and extremism."
Hazrat Mirza Masroor Ahmad continued:
"Every Ahmadi Muslim knows that it is his or her duty to protect all religions and to show love and loyalty to the country in which they reside. These are the true teachings of the Quran."
His Holiness said that having now built its first Mosque many more people would come to know of the
Ahmadiyya Muslim Community
in Ireland and that all peaceful people would be welcome in the Mosque.
Hazrat Mirza Masroor Ahmad said that the Mosque had been named after
Mary, mother of Jesus
, who is greatly revered by Islam for her piety. His Holiness said that Ahmadi Muslims should seek to follow her noble and righteous example.
Following his sermon, His Holiness led the Friday prayers from the new Mosque before being interviewed by both
The Irish Times
and
RTE
.
Further Information: media@pressahmadiyya.com
22 Deer Park Road, London, SW19 3TL UK
Tel/Fax: 020 8544 7678 Email:
press@amjinternational.org
Twitter:
@AhmadiyyatIslam