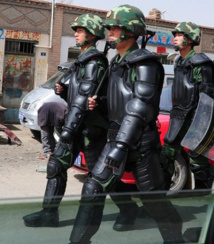 A group of NGOs, including EIFRF, wrote a joint letter to various international government leaders to alert them on the arrest of 45 reporters working for the online newspaper Bitter Winter, and calling them to action. The letter reads as follows:
To:
Dr Ahmed Shaheed
UN Special Rapporteur on Freedom of Religion
Mrs Federica Mogherini
High Representative of the Union for Foreign Affairs and Security Policy
Mrs Dunja Mijatović
Commissioner for Human Rights of the Council of Europe
Mr Stavros Lambrinidis
EU Special Representative (EUSR) for Human Rights
Mr Jan Figel
EU Special Envoy for Freedom of Religion or Belief
Mr David Kaye
UN Special Rapporteur on the promotion and protection of the right to freedom of opinion and expression
Mrs Mairead McGuiness MEP
Vice President of the EU Parliament in charge of Implementation of Article 17 TFEU
Denis De Jong MEP
Co-chair of the European Parliament Intergroup on Freedom of Religion or Belief
Peter Van Dalen
Co-chair of the European Parliament Intergroup on Freedom of Religion or Belief
Brussels, the 21 January 2019
Dear Madam, dear Sir,
We write as an informal group of organizations and individuals who are scholars, religious leaders, human rights advocates and practitioners to express our deep concern about the fact that since August 2018, at least 45 Bitter Winter (a magazine on religious liberty and human rights in China) contributors in mainland China have been arrested for filming incidents of, or gathering news about, the CCP's persecution of religious freedom and violation of human rights. Reporters are usually detained and interrogated on the charge of "divulging state secrets" or "involvement in infiltration by foreign forces." Some reporters have been sent to "legal education centres" to undergo mandatory indoctrination, while others have been tortured and abused.
We are a truly multi-faith group, representing a high degree of diversity. While there is very little we agree on theologically, or politically, we all agree on the importance of religious freedom for all faiths and none. It strengthens cultures and provides the foundation for stable democracies and their components, including civil society, economic growth, and social harmony. As such, it is also the ultimate counter-terrorism weapon, pre-emptively undermining religious extremism.
There is one enemy totalitarian regimes fear more than any else: a free press. They know they should use all means to prevent their wrongdoings from being exposed internationally by free media.
Bitter Winter (
https://bitterwinter.org/
) is a daily magazine on religious liberty and human rights in China, published since May 2018 in eight languages, including Chinese, by the respected Italian academic centre CESNUR (Centre for Studies on New Religions).
Since CESNUR is the oldest (it was founded in 1988) and largest international network of scholars of new religions, the magazine covers the persecution of both mainline religion and new religious movements such as The Church of Almighty God and Falun Gong in China. The magazine relies on an extensive network of Chinese reporters willing to risk their liberty to send news, photographs, and videos abroad.
Bitter Winter
achieved international fame when it managed to smuggle out of China several exclusive videos
(1)
shot inside the "transformation through education" camps where one million Uyghur and other Muslims are detained.
Obviously,
Bitter Winter
did not go unnoticed to the Chinese Communist Party (CCP). The magazine itself published two confidential documents
(2)
where the CCP asks the State Security to crack down on those who send information to
Bitter Winter
from China.
The first Bitter Winterreporters were arrested in July, but many more were arrested in the last month. The magazine reports that 45 of its journalists are in jail, and that it has received credible information that some have been tortured to compel them to disclose the names of other reporters involved in the network. The reporter who shot the videos in the Uyghur camps "disappeared," and precedents in China induce to fear the worst.
We call on democratic governmental authorities, international organizations, and media to ask China to immediately release the arbitrarily detained
Bitter Winter
reporters, and to comply with the international obligations it has freely subscribed about human rights and freedom of the media.
Respectfully,
Organizations
CAP FREEDOM OF CONSCIENCE
CENTER FOR STUDIES ON FREEDOM OF RELIGION, BELIEF AND CONSCIENCE – LIREC
CITIZEN POWER INITIATIVES FOR CHINA
EUROPEAN INTERRELIGIOUS FORUM FOR RELIGIOUS FREEDOM – EIFRF
EUROPEAN OFFICE OF THE CHURCH OF SCIENTOLOGY FOR PUBLIC AFFAIRS AND HUMAN RIGHTS
EUROPEAN MUSLIM INITIATIVE FOR SOCIAL COHESION (EMISCO)
GERARD NOODT FOUNDATION
HUMAN RIGHTS WITHOUT FRONTIERS INT'L (BRUSSELS) - HRWF
INTERNATIONAL OBSERVATORY OF RELIGIOUS LIBERTY OF REFUGEES – ORLIR
JUBILEE CAMPAIGN
MUSLIMS FOR PROGRESSIVE VALUES (MPV)
SOTERIA INTERNATIONAL
STEFANUS ALLIANCE INTERNATIONAL
WORLD UYGHUR CONGRESS
Individuals
Ivan Arjona
President - European Office of the Church of Scientology for Public Affairs and Human Rights
Veysel Filiz
Spokesperson – EMISCO
Russel Moore
President – Ethics & Religious Liberty Commission
Bashy Quraichy
Secretary General- EMISCO
Jianli Yang
Founder and President - Citizen Power Initiatives for China