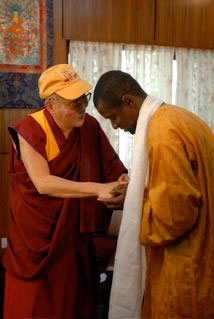 URI staff in San Francisco warmly welcomed New Era Educational and Charitable Support Foundation CC founder Dr. Emmanuel Ivorgba to the Bay Area from Jos, Nigeria last week, just before he was set to receive an award from the Dalai Lama.

After meeting with the overjoyed, smiling faces of URI, Emmanuel set off to receive the Unsung Heroes of Compassion Award from the His Holiness the Dalai Lama, later speaking at Santa Clara University and at Stanford, where he joined students in a viewing of the award-winning documentary, Project Happiness, in which he is featured.
A passionate youth leader, educator, and peacebuilder, Emmanuel has worked hard to ease tension between Christians and Muslims, Igbo and Hausa, and the rich and the poor in Nigerian communities torn apart by generations of religious and tribal division.

As a youth, Emmanuel was accepted into seminary school for his secondary education, originally intending to become a Catholic priest. But his love of learning propelled him into earning university degrees in computer engineering and information technology. Later, he would receive a PhD in Philosophy and Religion.
To all who have had the privilege of working with Emmanuel, his dedication to helping his fellow Nigerians and the world is profound; his vision for a better future boundless and inspiring. Emmanuel also serves as the West Africa Liaison Officer for URI West Africa, and was joined by URI Africa Regional Coordinator Mussie Hailu in San Francisco.

The passionate yet humble educator and activist sat down with URI to speak about his vision for his CC, New Era, and for Creative Minds International Academy, a values-based school that he also founded.
URI: What was it like to receive an award from the Dalai Lama?

Emmanuel: Receiving the Unsung Heroes Award from His Holiness the Dalai Lama—it is a feeling that is difficult to express in words. I had the privilege of meeting with His Holiness in 2007. That meeting inspired and challenged me to embark on my current work and to have him honor me seven years after. I am deeply humbled, grateful and inspired all the more. The award for me, therefore, is not a recognition for work done, but an invitation to be a greater service to humanity.
Read more