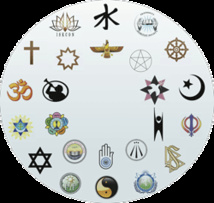 Dear Friend in Interfaith

Thank you to all the guests who came and participated in our recent meeting "Who is My Neighbour?: A Multifaith Response to Critical Issues for the General Election", on St Patrick's Day, 17 March 2015.

We will shortly be releasing a full video of the event, and all the speeches and discussions we had on the day. In the meantime, we thought you would like to see the excellent summary video of the event produced by Revd Dr Kevin Snyman, from the All Faiths Network Board of Advisors, and narrated by Martin Weightman, the Director of the All Faiths Network, which is available on YouTube here:


The All Faiths Network is committed to an honest and vibrant conversation about faith, interfaith, political life and the public sphere in a spirit of speaking truth into the big questions of our time. We also support a range of positive cultural and artistic interfaith engagement, and are run by our multifaith Board and team working through close knit friendships across diverse faiths.

We therefore take this opportunity to send you some some relevant links to our diverse and lively mix of speakers, which shows the bright, upbeat and rounded backgrounds of them all:

RABBI REUBEN LIVINGSTONE, SENIOR JEWISH CHAPLAIN TO HM FORCES, CHAIR OF IMAMS AND RABBIS COUNCIL OF THE UNITED KINGDOM

http://www.lsjs.ac.uk/author/rlivingstone/

DR DAMIAN THOMPSON, THE SPECTATOR AND CATHOLIC HERALD

http://www.spectator.co.uk/author/damian-thompson/

RT REVD GRAHAM JAMES, BISHOP OF NORWICH

http://www.norwich.anglican.org/about/bishops-archdeacons/bishop-of-norwich

JUDY KEINER, JEWISH BLOGGER AT ADLOYADA

PANDIT SATISH SHARMA, NATIONAL COUNCIL OF HINDU TEMPLES

http://hinduculturalsociety.org/people-satishksharma/

SHEIKH DR MUHAMMAD AL-HUSSAINI, FELLOW IN ISLAMIC STUDIES AT THE WESTMINSTER INSTITUTE

http://www.irishtimes.com/culture/how-a-london-imam-became-a-sean-nós-singer-1.2140767

https://twitter.com/myalhussaini



Best wishes

Martin Weightman, Director of the All Faiths Network

Satish Sharma, Secretary of the National Council of Hindu Temples [Inter Faith Network Member Body]

Danny Diskin, Chair of the Interfaith Alliance UK [Inter Faith Network Member Body]